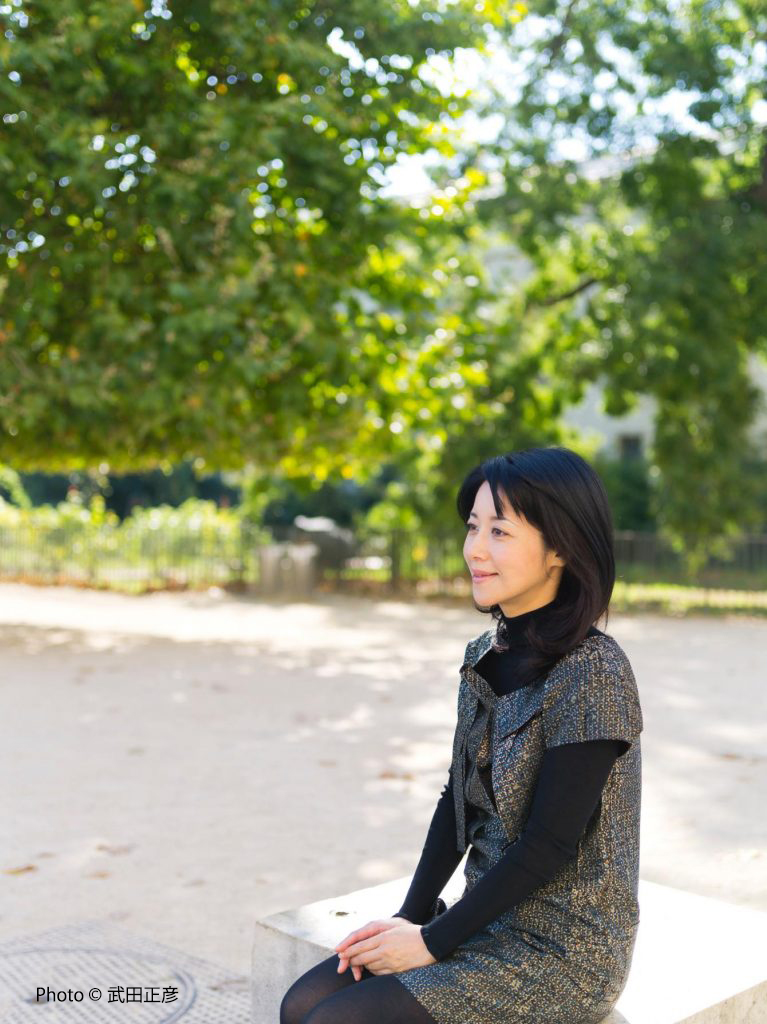 黛まどか
俳人。神奈川県生まれ。
1994年、「B面の夏」50句で第40回角川俳句賞奨励賞受賞。1996年、俳句誌「月刊ヘップバーン」創刊・主宰(通巻百号で終刊)。1997年、マドモアゼル・パルファム賞(文化部門)受賞。1999 年、北スペイン・サンティアゴ巡礼道約800kmを踏破したのに続き、2001~2002年、四季にわたり5回訪韓、釜山からソウルまでの道のり約500kmを踏破。2002年、句集『京都の恋』で第2回山本健吉文学賞受賞。2010~2011年、文化庁「文化交流使」としてパリを拠点に欧州で活動。2017年4月~ミニ番組『あなたの駅前物語』(テレビ朝日。毎週木曜23:10~)ナレーター。オペラ「万葉集(明日香風編・二上山挽歌編)」「滝の白糸」の台本執筆、校歌の作詞、舞台での朗読など、幅広い分野で活動中。
現在、「日本再発見塾」呼びかけ人代表、北里大学・京都橘大学・昭和女子大学客員教授、「国立新美術館」「公益財団法人東日本鉄道文化財団」評議員、岐阜県大垣市「奥の細道むすびの地記念館」名誉館長、株式会社ワコールホールディングス社外取締役、NPO法人日本カミーノ・デ・サンティアゴ友の会顧問、福島県飯舘村「までい大使」。
著書に、句集『B面の夏』(角川書店)、『京都の恋』(PHP研究所)、『忘れ貝』(文學の森)、『てっぺんの星』(本阿弥書店)、紀行集『星の旅人―スペイン「奥の細道」』(角川文庫)、『ふくしま讃歌―日本の「宝」を訪ねて』(新日本出版社)、エッセイ『あなたへの一句』(バジリコ)、『引き算の美学―もの言わぬ国の文化力』(毎日新聞社)、編著『まんかいのさくらがみれてうれしいな―被災地からの一句』(バジリコ)、共著『言葉で世界を変えよう―万葉集から現代俳句へ』(東京書籍)他多数。
黛まどか公式ホームページ http://madoka575.co.jp
海外版ホームページ http://madoka575.wixsite.com/english
---
Haiku poet Madoka Mayuzumi
Born in Kanagawa Prefecture, Madoka Mayuzumi first received acclaim when poems she submitted won an award from publisher Kadokawa Shoten in 1994. Her haiku are notable for their romantic and urban flavor, and for bringing new elements into the tradition.
Her first book, B-men no Natsu (B-side Summer), enjoyed unprecedented sales for a haiku collection, and the devoted following it earned led to the formation of the "Hepburn" Club, the only all-female coterie in Japan. The club launched the monthly haiku magazine Gekkan Hepburn in August 1996, and disbanded in March 2006 after publishing 100 issues.
In 1999, Mayuzumi successfully trekked the Way of St. James (Route of Santiago de Compostela), an 800-kilometer pilgrimage from Saint-Jean-Pied-de-Port (France) to Santiago de Compostela (Spain). Her haiku and essays of the journey were later serialized in the Yomiuri Shimbun, a major national newspaper in Japan, and published in the book Hoshi no Tabibito (The Pilgrim to Compostela). Between 2001 and 2002, Mayuzumi visited South Korea five times, during all four seasons, to hike the nearly 500 kilometers from Busan to Seoul. Her haiku and essays of this journey too were serialized in the Yomiuri Shimbun and published as a book.
In 2002, Mayuzumi's fifth haiku-collection, Kyoto no Koi (Kyoto Romance), won the Kenkichi Yamamoto Literary Prize.
In December 2006, amidst many reports in the media of bullying, suicide, and other depressing news, Mayuzumi began delivering haiku e-mail newsletters to cell phone users throughout Japan in an attempt to cheer people up, free of charge.
Between April 2010 to March 2011, Mayuzumi was in France as a Japan Cultural Envoy on a program sponsored by the Agency for Cultural Affairs, Government of Japan.
Mayuzumi is now the leader of a project called Rediscovery and Redefining Japan, which aims to revitalize Japan through rediscovery of local culture, traditions, and history.
She serves as member of The Council of The National Art Center in Tokyo (NACT), and The Governing Council of East Japan Railways Cultural Foundation (EJRCF); she is a Visiting Professor at Kitasato University, Showa Women's University, and Kyoto Tachibana University; Emeritus Director of the Basho Memorial Museum in Ogaki, Adviser of the incorporated nonprofit organization Fellowship for Camino de Santiago Japan, and Ambassador of Iitate village, Fukushima.
Official site: http://madoka575.co.jp
English site: http://madoka575.wixsite.com/english
Her books include:
Haiku collections
B-men no Natsu (B-side Summer) (Tokyo: Kadokawa Shoten, 1994)
Kuchizuke (Baiser/Kiss) (Tokyo: Kadokawa Haruki Jimusho, 1999)
Kyoto no Koi (Kyoto Romance) (Tokyo: PHP Institute, 2001)
Wasuregai (A Forgotten piece of the Bivalve) (Tokyo: Bungaku no Mori, 2006)
Teppen no Hoshi (The Star on the Christmas tree) (Tokyo: Hon-ami Shoten, 2012)
Others
Hoshi no Tabibito (The Pilgrim to Compostela) (Tokyo: Kobunsha, 2000)
Saranheyo (In Love with Korea) (Tokyo: Jitsugo no Nihonsha, 2003)
Anata e no Ikku (A Haiku for You) (Tokyo: Basilico, 2008)
Sono Shunkan: Sosaku no Gemba, Hirameki no Toki (The Moment: The Flash of Inspiration during a Creative Process) (Tokyo: Kadokawa Gakugei Shuppan, 2010)
Hikizan no Bigaku: Mono Iwanu Kuni no Bunkaryoku (Subtraction: Japan's Culture of Silence) (Tokyo: The Mainichi Newspapers, 2012)
Uta, Hitohira (A Petal of Poetry) (Tokyo: Shin-nihon Shuppansha, 2014)
Fukushima Sanka: Nihon no Takara wo Tazunete (Tribute to Fukushima) (Tokyo: Shin-nihon Shuppansha, 2016)